The second Berlin Soft-Landing discovery mission for startups, scaleups and ecosystem leaders was a blast! Check out this article by GTEC describing the Mission and get to know the delegation.
Last month, GTEC welcomed to Berlin for a week several startups, scaleups and ecosystem leaders, among them Peter-Paul de Leeuw, founder of AmberScript; Ken Fox and Ilan Katsir, founders of VeriVersion; Rajiv Tayal, founder of InQuim; Adomas Malaiska, founder of NextQuestion; Michal Kabatznik, Co-Founder of The Good Group; Augustin Radu, Business Development and International Partnership at IMT Starter; Andrius Bolsaitis, Innovation Center Manager at SEB Lietuvoje; Roisin Lyons, Assistant Professor in Entrepreneurship and Innovation at Dublin City University; Oana Bouraoui, Co-founder & VP of Romanian IT and Partnerships and Projects Manager at European Young Innovators Forum; Nga Nguyen, Founder of Innercompass; Joris van Rest, Manager Operations at Smrt.bio; Valentina Vicari, Director of the Business Incubator Techno Science Park at San Marino Innovation Institute; Sebastian Toupy, Head of Startups at The Next Web; Sally Gregersen, Social Entrepreneur and Founder of Lulu Lab; and Vaidas Zagunis, Head of Retail at SEB Bank.
They got a whole week full of amazing talks by the most important players in the Berlin ecosystem, plus a tour around Tech Open Air, one of the most important tech conferences in Europe. As you can see below, no time was wasted!
The week started with intense and productive talks by Benjamin Rohé, Founding Managing Director of GTEC, on why Berlin is not the next Silicon Valley; by Josefina Nungesser, Director Trend & Innovation Scouting at Germany Trade & Invest, on Tech and Innovation in Germany; and by Felix Blobel, Partner at Noerr LLP Berlin, on how to survive the German Law Jungle.
Right after that, we had different experts coming over to join our Experts Round Table: every member of the Soft-Landing expedition had the chance to sit down and ask all the questions they had about diverse topics and get their answers and advice. Our guests could rotate around in different tables to ask questions to Danit Gal, Co-Founder of Lisantix; Robin Weninger, Managing Director at GTEC and at ShapingWork Academy; Yael Khan, DACH Business Manager of AllCloud; Gal Bechor, Product Manager at Volkswagen Digital Lab; Simon Dierks, Marketing Manager at Förderbar; Monica Zaldivar, Head of Marketing at GTEC; Olla Jongerius, Co-Founder at Freeliance; Dennis Levien, Investment Analyst at Motu Ventures; and Stephan Kreutzer, Senior Consultant at Technopolis Group.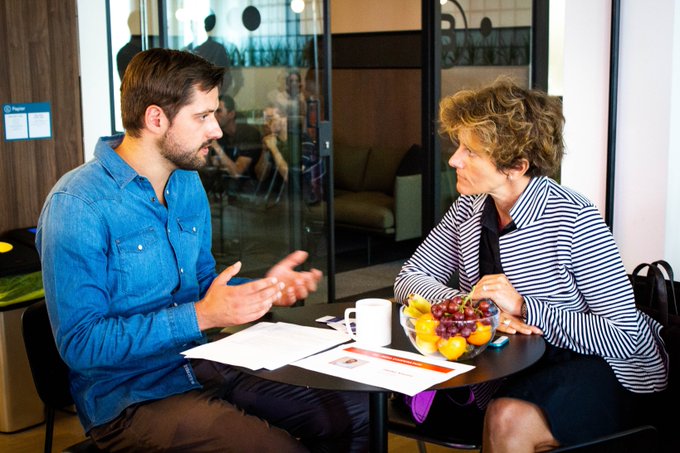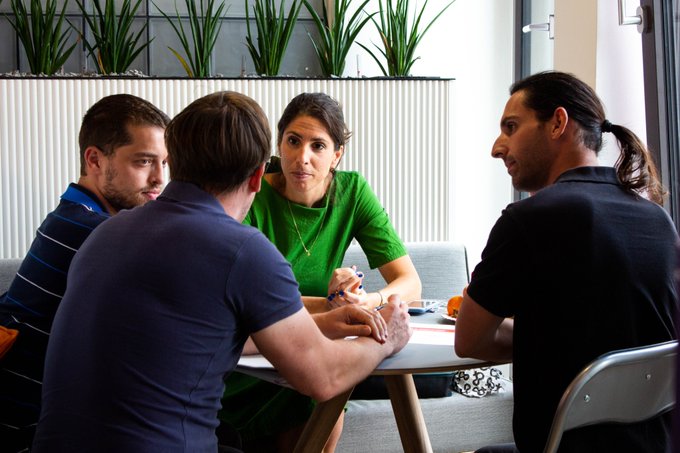 To top up the day, we had the visit of Olivia Hohoff, Project Manager Media and Creative Industries at Berlin Partner. She presented all the initiatives that Berlin's public institutions are working on to help entrepreneurs, startups and investors to grow. As a unique public and private partnership, Berlin Partner for Business and Technology collaborates with the Berlin State Senate and over 280 companies.
To complete the first day of the Soft-Landing mission, we hosted another edition of our celebrated G-FORCE RELOADED meetup, where serial entrepreneur and investor Alexander Piutti. Nine entrepreneurs raised their hands to pitch for 5 minutes and get raw and brutally honest feedback on their business ideas and VoyPost was the lucky startup to impress Alex and to get a spot for two weeks in our NO BULLSHIT LAB.
We started Day 2 of the second Soft-Landing mission in Berlin with a high-level Investors Panel: we had over Dr. Tanja Emmerling, Principal at High-Tech Gründerfonds Berlin, Robert Kusche, Business Analyst at Investitionsbank Berlin | IBB, AnaMaria Quijano-Wittemann, Investment Manager at GPS Ventures, Florian Till, Investment Manager at innogy Innovation Hub, Tian Tian Feng, Investment Manager at Cherry Ventures, Christian Stein, Managing Director of Coparion GmbH & Co. KG, and Marcus König, Investment Manager at Signals Venture Capital. There was time not only for presentations but also for intense exchange of impressions on how investment works in different European countries and how to raise funds in Germany.
The afternoon finally brought some time to relax or catch up with emails before the start of a workshop focused on helping each other's startup ecosystems and trying to solve together the challenges faced by other hubs across Europe.
Both evenings in Berlin were spent discovering the city, the beautiful food available in town and doing some tourism.
On Day 3, it was time to visit Tech Open Air and explore the amazing talks scheduled for this year's edition. The Soft-Landing delegation had a great time: #TOA18 delivered!
To put a perfect end to such an extraordinary week, we brought together Soft-Landing's delegation with another delegation we hosted at the same time made up of our partners at Union Investment. We had a great time having dinner and getting to know each other:
The Soft-Landing mission kept going until Friday, with plenty of time to keep discovering what Berlin and Tech Open Air have to offer to other European startup ecosystems, startups and scaleups. We are extremely grateful to everyone who supported this edition of Soft-Landing, which marks the first 6 months of the project, and we're looking forward to more discovery missions to come! If you want to join, 
apply on Soft-Landing.eu
!